A/ Pre-departure Covid-19 PCR tests (plus QR code option)
B/ Covid-19 vaccine certification OR WHO international vaccination passport
C/ Covid-19 antibody tests
D/ Covid-19 rapid antigen tests
E/ Covid-19 vaccine rollout New Zealand
A/ Pre-Departure Covid-19 PCR testing (plus QR code option): we are not a community covid test centre i.e. we do not offer testing for unwell people or community case contacts.
Auckland's premier pre-flight PCR covid testing centre in a safe and relaxed environment. Contact us to reduce your stress pre-flight & we support you all the way until you safely checked in at Auckland airport and your final transit check in e.g. Los Angeles to Canada. We cannot advise on test dates or accept bookings if you telephone.  We have assisted several thousand travellers since international borders reopened in September 2020. In the past 11 months only one traveller did not receive their PCR report before check in (this past June long weekend holiday) & two travellers failed to check in for Germany due to PCR report times a few hours outside newly introduced stringent requirements. Our travel doctor has been helping travellers for more than 30 years & suggests the best timing for your appointment based on your itinerary. Please double check if the appointment date & time we offer you is within the requirements for your trip. Our doctor does the nasal brush as gently as possible with you in a relaxed position & in a safe environment (unlike MIQ or community testing);  follows through with the PCR results and documentation (99.9% success rate). 
If you have had the covid vaccine it does not affect your PCR test result. NZ does not have any licensed rapid antigen tests; there are no 20 minute tests! Your test sample is sent off to a laboratory where technologists extract your genetic material, run it dozens of times in a PCR thermal cycler with chemicals to amplify your genetic material. Finally the results are validated and signed off by scientists.
Country entry & airline requirements are increasingly becoming more complex and continually change. Airlines also have different check in covid test timing requirements for the same destination (we prepare your PCR reports accordingly as per your carrier + destination customs). For European countries with stringent requirements, Singapore & Dubai transits are better choices as regards covid testing. Our travel doctor has the expertise to advise what is best to get you checked in on your airline & into your destination (including transit stops). We only accept booking requests for flights departing Auckland in the next 30 days (ie. do not try and book now if your flight is after 27 August). Most airlines and countries currently require the certificate to be issued 72 hours before departure at Auckland airport. A few countries require it within 24 hours of departure or within 48 hours of arrival. You may need to be re-tested at your destination airport or home quarantine on arrival (as per country requirements).
We advise you check with us before you book multi-leg flights to countries with strict entry requirements and avoid booking flights over long weekends as lab processing may be delayed. Also avoid booking flights via Australia if possible for many reasons.
This service is available in clinic by appointment and is a private service. PCR standard fee is $280 (this cost includes viewing your itinerary, setting up the optimal appointment, casual traveller registration, PCR collection by our doctor, processing the specimen request, tracking delivery to drop off point, laboratory fees, monitoring & communicating with lab for release of results, preparing & delivering results to you in a timely manner and supporting you at the airport check in). Use a reliable email to request your Covid-19 PCR pre departure test to info@travelclinic.co.nz  & include  your passport names, date of birth, contact telephone number and a PDF of flights or proper/official flight details. Please be patient: we will respond in 1 business day. If urgent last minute i.e. flights departing within 3 days, please email doctor@travelclinic.co.nz. Do check your 'junk' mail folder for our confirmation of your appointment. All requests will be cleared by our travel doctor who selects the appropriate appointment time & date. If urgent our doctor will reply within 1-2 hours. Late booking fee of $50 applies for tests requested the next business day. Friday/Sat/Sun $25 surcharge for tests & results.
PLEASE MONITOR YOUR SPAM/JUNK FOLDER IF YOU ARE EXPECTING A REPLY FROM US.
The PCR report in PDF format black ink (no colour option) will be emailed to the email you provided us at the time of booking. We cannot change this email when you come in for your appointment. We email your results after hours until 10pm including weekends/public holidays (even if the clinic is closed). We understand how important it is for you to receive your results timeously. All charges are to be paid at reception before your testing. We do not accept pre-payments as flights get cancelled and travellers change plans at short notice. Invoices will be emailed to you after the test.
Please check your 'junk' mail folder before calling us. The PDF report (sample report below) includes: your name, date of birth, gender, our doctors name/clinic, Labtests logo, date & time of test, type of test and the result. We only include one first name and one family name i.e. the first of each name on your lab report (the rest of your passport names are initialised and this is acceptable for airline check in and customs; we have prepared reports for several thousand passengers). The lab report includes all details required by all countries for entry. We advise you carry printed copies of the PCR report. If you encounter an errant airline or customs officer who questions the validity of your PCR report, be familiar with your entry requirements (our doctor will advise you).
We can 'fast track' processing times/results & Fit to Fly medical certificates if needed (fees apply). Weekend testing can take longer than weekday processing times.
The date you get tested is the date on your laboratory report (this cannot be changed). No passport numbers are included in the report by Labtests, however do bring a passport or driver license in to verify identity. Some countries e.g. Spain, Egypt, Israel require a passport photo certified copy ($50) or QR code PCR report ($75 includes doctor certification), or a country specific form e.g. Japan ($50)
There is no extra charges if you request printed copies (do carry extra copies as the airlines may require a copy at check in for submission). Some countries require a doctor certified hardcopy; please request if needed ($25). The certified copy helps to support the validity of your test report.
*It is your responsibility to check your pre-departure country registration; we advise you do a final check 5 days before your flight*
NB: we offer no guarantees, however we have an excellent track record.

B/ Covid-19 vaccine certification OR WHO International Vaccination passport
We can assist you to certify your Pfizer covid vaccinations for travel to minimise the quarantine process and entry to destination countries. Please request this when you make a booking for your covid pre-departure PCR test. We can either certify your little 'purple vax' card on A5 ($25) or supply and/or include your  covid vaccinations records in the WHO approved yellow vaccination passport ($50). This service is currently only available as an add-on to a PCR pre-departure test booking.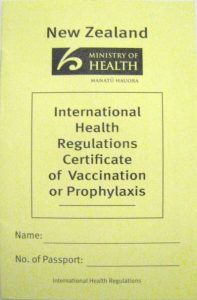 C/ Covid-19 Antibody Tests (for past + current infection)
A blood sample can be taken to check to see if there are specific antibodies ie IgM to Covid-19 present. These are specialised proteins and indicate if you are currently infected with the virus. Turn-around time for test result is 24 hours. We can also check if you have a past infection.
The gold standard for current infection is the PCR swab test.
D/ Covid-19 Rapid Antigen Tests:  these tests are not licensed in NZ.
E/ Covid -19 Vaccine
Covid vaccines will be available in our clinic in the coming months for the general public & for international travel. The vaccine will be free and available to everyone regardless of their immigration status. We are covid vaccination centre approved and awaiting vaccine stock from the DHB.  Email us your details if you wish to be on our list to have the vaccine at Group 4.
There are 4 priority groups:
Group 1 : completed Feb- March (ports and MIQ)
Group 2 : April, May, June (frontline workers) in progress
Group 3:  June – July (age 65 > and < 65 with chronic risk conditions)
Group 4: August commencement (age < 65  & general population)